Barrels & Equipment ad view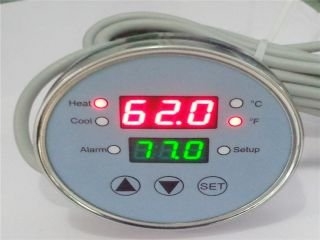 C2105 Winery Equipment Fermentation Temperature Control
Product Type: Vineyard Equipment
Condition: New
City / Location: Zhengzhou
State / County: Henan
Country: China
Quantity: 1~1000
Price: $ 80.00
Posting Type: For Sale
VIP till: 2014-03-09 22:28:01
Posted on: Feb 19, 2014
Product Details
C2105 is one temperature regulator for brewery fermentation tanks. It's widely used in Beer Brewery, Micro Brewery, Mini Brewery, Large Brewery and Home Brewery.
It's characterized by:
1. Dual Display
It has dual display: 3-digit RED LED for real-time temperature and 3-digit GREEN LED for set temperature. That facilitates users to inspect the current status and the set point quickly at a glance. And digital LED display makes it easy to read.


2. Controlling COOLING and HEATING
2 relays are available to control 2 valves: 1 for HEATING (24V, 3A) and the other for COOLING (24V, 3A). And red lights are employed for users to view the current status quickly.


3. Adjustable Set Point
The users can set the temperature to his / her desired value (14~211 °F/-9.9~+99.9 °C).

4. SUS304 Stem Structure and Long Cable upon Customers' Demands
The stem structure makes it easy for installation on fermentation tanks. For communication cable, the standard length is 4.0m and its length can be longer upon customers' demands.


5. Alarm against Upper / Lower Temperature Limit
Users can set desired upper and lower temperature limit. The Alarm light will flash once the real-time temperature exceeds the upper temp limit or drops below lower temp limit.


6. RS485 Communication to PC Which Enables Network and Central Control on PC
The inherent RS485 communication port enables the controller to contact with the computer. We also provide software that is used on the computer. Users can manage all the tanks on the PC.


7. Easy Transfer between Celsius and Fahrenheit
The controller can transfer between Celsius and Fahrenheit easily. Users will need to reset the parameter. That makes it popular in both European market (in Celsius) and North American market (in Fahrenheit).


8. Tinned Wires Convenient for Connection
The communication cable is of 6 wires. Each wire is tinned for easy connection with power electronics components.


9. Wiring Diagram for Each Controller
We stick 1 CE mark and 1 wiring diagram for each controller at the back case. Thus, customers can do the wiring conveniently.


10. CE Certified
Our controllers have passed the CE Certification. It's safe and reliable in operations.